Predictive 24/7 Monitoring for emotional health.
Revolutionizing emotional health awareness with its proprietary AI technology, SoLoMoN® Technology.
NEW!We will be releasing the Behavioral Health Scores in April 2023.For more information, please see below!
Behavioral Health Scores Details
We are unmonitored!!

Our AI solution provides people who are interested in behavioral health with  IoT devices to watch over emotional up/down and quantify and visualize their state of mind. If you're interested in treating or improving your emotional health, contact us soon!
About us ⇒ Philosophy / Technology / Team / Awards / Office / Privacy policy
Our Pitch at SkyDeck Demo Day, February 8, 2023
(This page was open to the public until February 22.  The contents that are open to the public at this time differ from some of the contents on that day. For details about the contents of the day, please contact us by email.)
CEO, Daisuke Ito, participated in a pitch at SkyDeck on February 9.
Title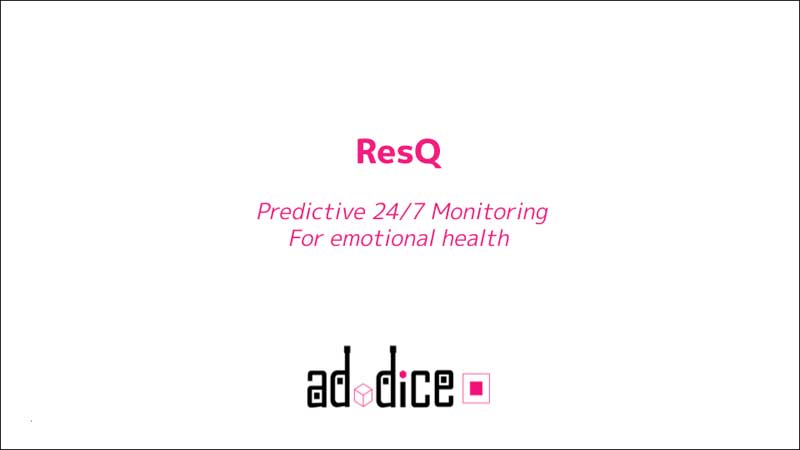 Hello, my name is Daisuke, CEO of ad-dice.
ad-dice provides ResQ predictive 24/7 monitoring for emotional health.
It is a collaborative platform for therapists and clients that produces daily behavioral health analyses using AI, measurements of vitals, and IoT data sources.
We are "Revolutionizing behavioral health awareness with AI."
Introduction
You can't see mental state.
Behavioral health can be understood through a combination of biometric and psychological factors,
Often, it is only understood after an unexpected tragic event takes place.
Problem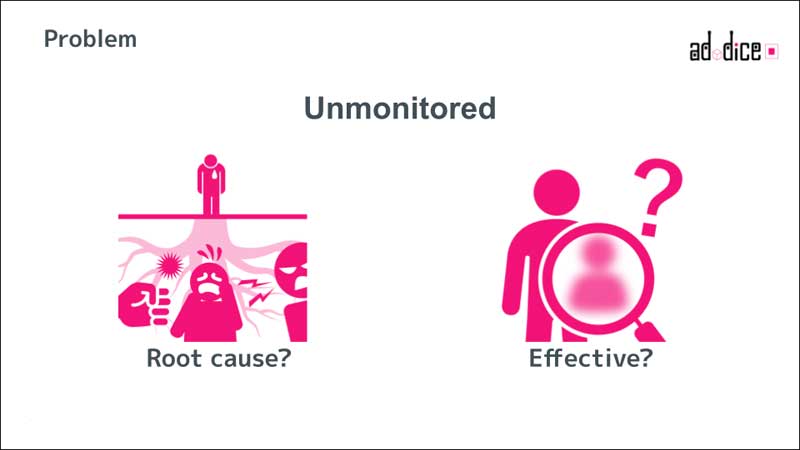 Behavioral health is a global risk.
The problem is that we are unmonitored.
(1) We cannot address Fundamental Issues or understand the root cause
(2) It is difficult to know whether or not the effort is working.
Solution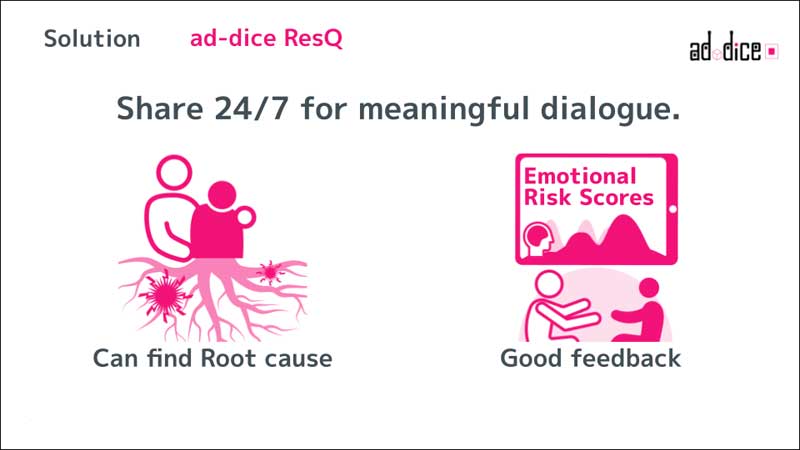 The 24/7 monitoring will allow them to engage in meaningful dialogue.
Solution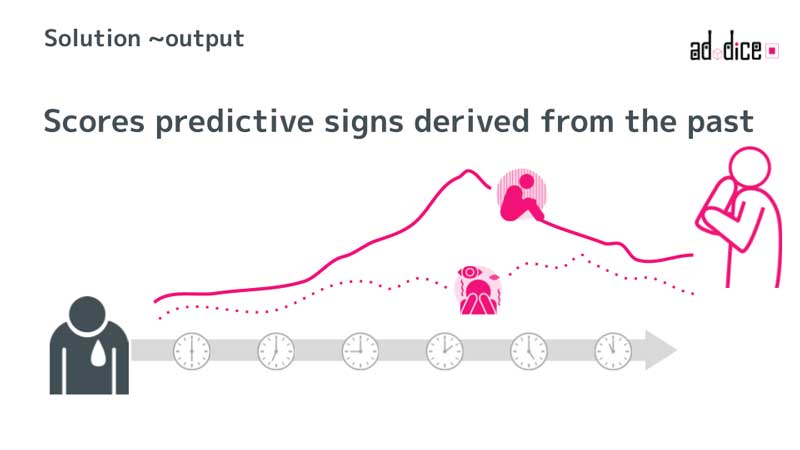 ad-dice offers real-time Behavioral Health Scores.
We utilize a wearable watch and other smart devices which are becoming more popular among young people.
Our patented technology enables us to trace data across multiple sources.
Our platform is to monitor behavioral health using a score based system.
With our patented and patent pending technology enables to trace clues across multiple data sources.
Our product complements manual entry-type apps like Woebot Health with 24/7 real time data analysis, utilizing fitbit data and other sensor data sources for inputs to generate risk scores.
Team/Adviser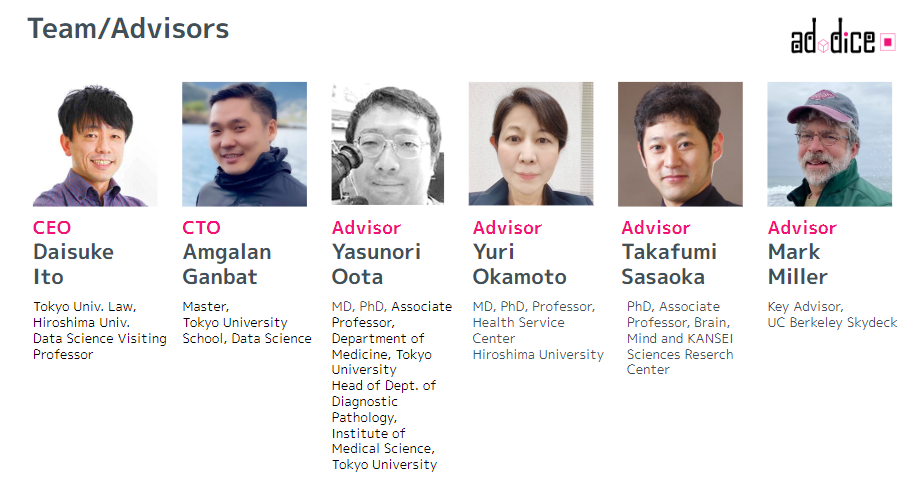 This is my team.
As CEO, I have extensive experience in AI, having been a visiting professor at Hiroshima University.
Amgaa is a CTO, has extensive AI development expertise.
Dr. Okamoto is our psychiatric researcher. and Dr. Sasaoka is our cognitive psychological researcher.
Mark is an experienced key advisor.
For more information about ResQ, please contact us using the Contact form!
About us
Philosophy
"Touching AI". In an age when sensors are everywhere in our society and data is flooding in, it is easy to imagine that information is like a person's autonomic nervous system. The company's mission is to realize a safe and secure society with solutions that allow AI to autonomously control the environment by assuming primary processing of information, just like a person's autonomic nervous system, and to use AI to protect people's happy lives and convey excitement.
Technology
ad-dice Inc. is a startup that provides solutions using "SoLoMoN AI", which was developed based on its proprietary technology, Solomon Technology. The company has a patented technology that controls the environment by having AI learn how experts make decisions and take measures on data collected by IoT.
Various types of sensor data are constantly monitored by SoLoMoN AI* in the cloud and analyzed by complex AI analysis to present a "risk score" that expresses the high level of various risks. If the "risk score" exceeds a certain value, an alert is automatically triggered, and the alert can be easily adjusted by on-site staff themselves by manipulating the AI.
*JP Patent:6302954 MANAGEMENT SYSTEM AND MANAGEMENT METHOD, Filing JP UPA2020-130630/2022-082968/2013-14639/2021−192730


Team
CEO

Daisuke Ito

Tokyo Univ. Law,
Hiroshima Univ.
Data Science Visiting Professor

CTO

 Amgalan Ganbat

Master,
Tokyo University
School, Data Science
Awards
SoLoMoN AI's Awards and Achievements
SoLoMoN AI has received numerous awards and been adopted in various incubation programs and contests.
2015
・KDDI ∞ Labs 8th stage adopted
2019
・Selected for Plug and Play Kyoto Batch
2021
・CEATEC 2021 Startup Pitch Contest, 1st Prize in "Audience Voting".
・Selected for the Inter-American Development Bank's "Solutions for Aging Societies Contest
・Adopted for the Open Innovation Challenge "TSUBASA" co-sponsored by JICA and IDB Lab, Inter-American Development Bank Group
・Adopted for "YAGAMI Human Care Pitch 2021" sponsored by Yagami Manufacturing Co.
2022
・Received "Well-being Award" from Sumitomo Life Insurance Company in SMBC Group's "Mirai X 2021".
・Adopted for the second phase of the "TRY! YAMANASHI! Demonstration Experiment Support Project," a cutting-edge technology demonstration experiment project in Yamanashi Prefecture.
・COI Acceleration Support Program" adopted by Japan Science and Technology Agency (JST)
・Adopted "Startup Ecosystem Formation Support" by JST (Japan Science and Technology Agency)
・Participation in "Hatch Meets," a field-oriented social experiment support program of "Hatch Technology NAGOYA," Nagoya City, Aichi Prefecture
Office
SoLoMoN Labo
MK Bldg. 3F, 6-3-6 Sotokanda, Chiyoda-ku, Tokyo 101-0021, Japan
It's near Akihabara!

Privacy Policy
For more information on our privacy policy and other information, please see below.
Privacy Policy
Disclosure of personal information
Disclosed Matters Concerning Handling of Anonymously Processed Information
Thank you for visiting our website. Please feel free to contact us about our AI.
Thank you so much!