Case studies:Mental care using health care AI - Experimental approach
Aichi Welfare Promotion Association(Nagoya-city,Japan)
For the smooth reintegration into society of people with mental disabilities.
Visualization of the mind" aims to provide generous and attentive support!
Everyone has experienced depression, depression, and a lack of motivation to do anything. However, even in such a situation, many people can recover and regain their behavioral health through their "mental resilience" (flexibility).
However, when mental resilience is lost, anxiety and stress accumulate and increase, and one day, as if a glass of water suddenly overflows, a "mental illness" occurs.
In Japan, the number of people visiting or hospitalized for mental illness was 2.24 million in 2002, but by 2018, the number was 4.2 million, which is increasing. The subsequent coronary disaster has led to estrangement and isolation in human relationships and worsening social and economic conditions, all of which have added to this situation.
Mental illness not only interferes with daily life and relationships but also prevents people from going to work, forcing them to take a leave of absence or leave their jobs. Once in this state, it is not easy to re-enter the workforce.
In July 2022, the Aichi Welfare Promotion Association will conduct a demonstration experiment using ad-dice's healthcare AI to monitor the mental and physical health of those who wish to work. We interviewed Mr. Nakajima, the Representative Director of the organization.
Please contact us for more information about healthcare AI and behavioral health scores.
Customer Profile
Summary
Issues before introduction
・Support for those who wish to work is subjective. It can be challenging to provide support on an objective basis.
・If we could know what is going on 24 hours a day, 365 days a year, we would be able to provide better support.
・The current support is mainly based on the subjective judgment of the person in charge. We want to incorporate objectivity, but how can we do that?
Reasons for choosing ResQ AI
・We met ad-dice through "Hatch Meets," Nagoya City's field-oriented social demonstration support program.
・The "invisible" parts can be visualized based on data and objective evidence.
・AI can detect the " before " state (pre-symptomatic state), not after the disease, and present a score.
Effects of introduction
・The matching status with the job and the relationship with the surroundings (employer, etc.) can be visualized, and judgment can be made based on objective indices.
・Even inexperienced staff can be provided with more extensive and detailed support.
・The ability to objectively view data on one's own mental and physical condition helps the individual to become more self-aware and allows them to become more independent.
1. Meetings are "Hatch Meets" meetups
Aichi Welfare Promotion Association is a general incorporated association that provides a full range of welfare services, including employment counseling, job training, job hunting support, and post-placement follow-up for people with mental disabilities. The head office and Minami Ward office in Atsuta Ward are in charge of the Nagoya City area, the Handa office is in order of the Chita area, and the Ama office in Kanie-cho, Kaifu County is in the amount of the West Ohari area (Ama City and Kaifu County).
2. demonstration experiment mechanism
The theme of the February 2022 Meetup was "Problems in the Nursing & Welfare Industry. We were also allowed to make a pitch, and I spoke on the theme of 'ICT issues for welfare offices.
One of the challenges we faced at that time was that we needed to see changes in the physical condition of our clients. We can see how they are doing when we are interviewing them, but we can't stay with them 24 hours a day, 365 days a year, so we can't see how they are doing daily. If we know this, we can provide more accurate support and improve the utilization rate of this project. We thought the means to solve this problem could be found in IT, and we presented this at the meetup."
This is where the match with ad-dice emerged: in the spring of 2022, ad-dice was participating in Hatch Meets with its healthcare AI (ResQ AI) technology. This was searching for a demonstration field for an initiative that uses AI to analyze vital data for risk, capture signs of illness (Predictive Control®), and provide objective indicators (scores).
Mr. Nakajima wondered if healthcare AI could solve the problem of "not being able to see changes in the physical condition of clients. Nakajima thought healthcare AI could solve the problem of "not being able to see changes in the physical condition of users.
He said, "In employment support, the subjective judgment of the person in charge inevitably plays a central role. Although the judgment of veteran staff is reliable, it takes time to train new employees, and it isn't easy to share know-how. Introducing healthcare AI would bring 'objectivity' to employment support decisions.
Furthermore, the company is also working on "visualization" of stress and behavioral health. We hoped that more extensive support would be realized if the invisible "mind" could be made visible. We had high hopes that if we could see the hidden "heart," we could provide more generous support.
A match was quickly made, and after a press release by the City of Nagoya* on June 29, the demonstration experiment officially started on July 1.
3. What did you see through the demonstration experiment?
What did you see through the demonstration experiment, and what were your impressions?
We have seen each user's situation, which is collected as data in the cloud. We found variations depending on the nature of the work and the people (e.g., supervisors) with whom the user comes into contact.
For example, if the stress score is lower in job A than in job B, job A better fit the individual.
It is also essential to understand the rhythm of a person's life. Many people are withdrawn or continue to take medication due to physical or mental illness. Since medicine can affect sleep, we can advise based on the data on what kind of lifestyle rhythm is best for them.
In addition, we can provide better employment support by interviewing the client in advance to ensure that their performance at work does not drop the next day or later, by helping the client adjust their daily rhythm when finding a job, and by taking into consideration such factors as matching the job to the client's needs and the relationship and compatibility with their supervisor.
We hope that people with mental disabilities and their families who do not know their life rhythm or are suffering from a disrupted rhythm will be able to regain and use it in their employment."
4. Activities within Hatch Technology NAGOYA
Since the kick-off in July, various activities have been conducted at Hatch Meets.
In November, we participated in the two-day open event "Hatch Technology Fes. 2022" at the landmark "Oasis 21" in Nagoya City, where 150 people visited the event. We also had the opportunity to be introduced to Nagoya's mayor and deputy mayor. We also had the chance to introduce our products to Nagoya's mayor and deputy mayor.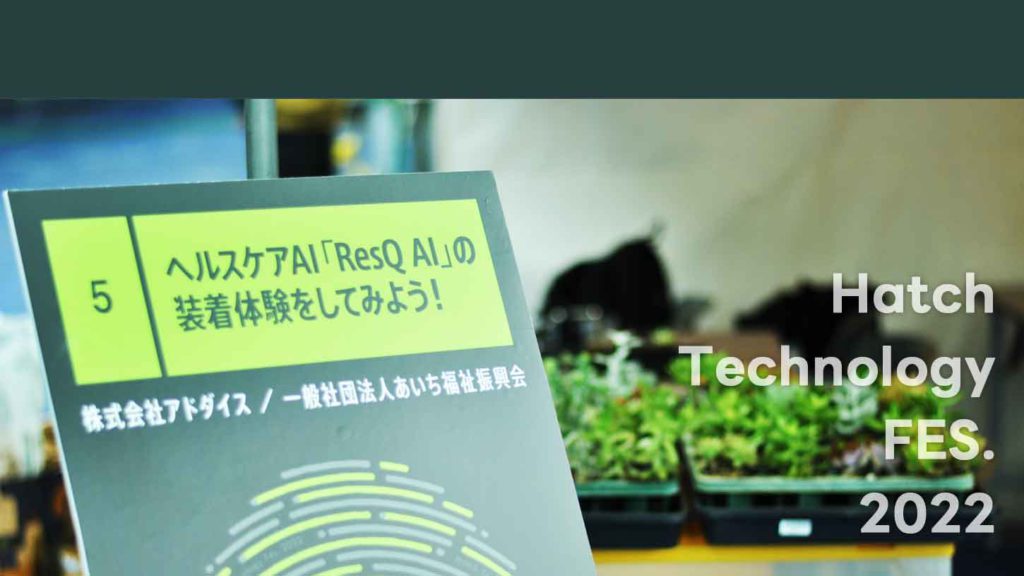 5. Expectations for the Future
Many people think of depression when they think of mental illnesses. Still, there are many other mental conditions, such as schizophrenia, panic disorder, manic-depression, obsessive-compulsive disorder, drug addiction, and developmental disorders, and they all have different symptoms. It is not a disease that only affects special people; anyone can suffer.
Building a society where people with mental illness can live together in peace in the community is essential. We have high expectations for ad-dice's AI, which attempts to visualize the mind from vital signs. By having people like us respond objectively and help people reintegrate into society, it will be an opportunity for people to understand mental illness properly.
The demonstration experiment came to an end at the end of March 2023. Mr. Nakajima said he hopes to continue to improve the accuracy of healthcare AI in the future.
Please send us your inquiries or consultation by filling out the form below!
Contact Us